What is the Best Color for a Ceiling?
May 18, 2022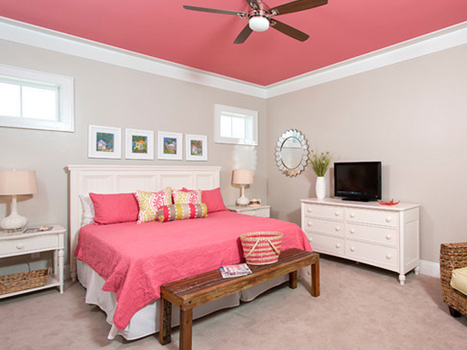 When picking a color for your ceiling, first look at the shape of the room. Is it an open concept with a ceiling that spans more than one room or an individual room with its own ceiling? Is there height variation or is it flat? The shape of the room will determine the best options for you.
Many people are under the assumption that ceilings must be white and this isn't always the case. White is a simple and safe way to go.
If you enjoy changing your wall colors often or have a difficult ceiling to paint than white or a shade of white is usually best. Otherwise, you'll want to paint your ceiling with each color change.
The ceiling is the fifth wall in a room and should be treated as such. If you have white or light color on the walls, adding a color on the ceiling can make the space feel finished and add character.
Try a soft blue for a wispy, airy feel or a navy for an elegant, dramatic feel. Vaulted ceilings and large connected ceilings are great because it lifts and expands and makes the room appear larger.
Choosing a lighter tone of your wall color for a large ceiling will minimize the stark contrast and make the space feel cohesive and simple. If using a bright ceiling white with a darker wall, it can cause harsh lines and actually make the room appear smaller. And if using a lighter wall color don't rule out using that same color for a large or vaulted ceiling. And if you have a large flat ceiling without a crown or break, using a lighter shade would be best. The lighting and shadowing may make the same wall color appear a bit darker.
If the area is a main living area, stick to neutrals. It is easier for decorating and will cater to everyone. For an individual space like an office, bedroom or rec room, don't be afraid of bold colors. If you're not one for a colorful ceiling and are looking for a white don't fret. Even though there are many whites, there is an easy solution. Look for the undertones. Some whites are stark, cool or warm. If you have a taupe, beige or warm gray choose a white with a warm undertone. A couple favorites are SW 7004 Alabaster and HL 0011 Sugar Dust. If you have a blue, green or cool gray choose a white with a cool undertone. A couple favorites are SW 7005 Pure White or HL 0600 Melting Glacier. If you have white trim use the same color on the ceiling! It incorporates the color and ties the room together. Finally, have fun with your color!