An Trusted Painting Contractor Serving Brookfield, WI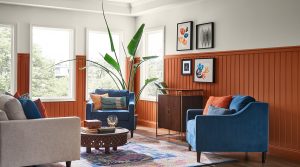 Your home is due for a makeover, and you're on the hunt for a painting contractor who will ensure the project is completed professionally and in a timely manner. Good news—you've found one! Two Day Painting is a painting company that is trusted by homeowners throughout Brookfield, Wisconsin, thanks to our quality workmanship, organized business systems, thorough communication, trustworthiness, and timeliness.
Exceptional Service
One of the biggest headaches of hiring a house painting contractor is not knowing if they'll show up on time. Two Day Painting will set your mind at ease thanks to the open communication approach we bring to our projects. Unlike some other local painting contractors, we'll arrive when we say we will, and we provide consistent and accurate updates as to when the project will be completed. We assign as many professional painters as needed to finish our exterior and interior painting jobs, which we aim to complete in as little as two days!
Our Painting Services
Two Day Painting is a one-stop shop for professional painting services. In fact, we are the painting contractor that can handle every step of your project, from start to finish. We offer both exterior and interior painting services, as well as kitchen cabinet painting—an affordable way to remodel your kitchen without having to replace the cabinets.
An Easy Process
After you choose us as your painting contractor, we'll schedule a free color consultation to help you select the perfect colors to bring your vision of a remodeled home to life. When painting day comes, you can expect us to show up on time and complete the work to perfection. Once we're done, we'll ensure your satisfaction and include a warranty to protect your investment.
Award-Winning Residential Painters
Thanks to our unwavering commitment to delivering excellence on every project, Two Day Painting is proud to have earned an A+ rating from the Better Business Bureau as well as numerous industry awards.
For more information about why we're the right painting contractor for your home in the Brookfield, WI, area, contact Two Day Painting today.